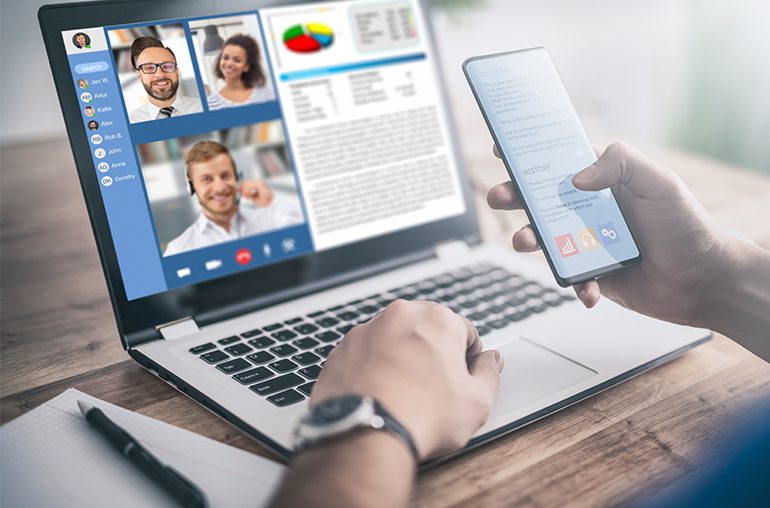 As many American workers have transitioned to a new remote reality in the face of the Covid-19 pandemic, often-overlooked core operations have increasingly come back into focus for businesses across the spectrum. With so many employees working from home and beyond normal controls – and new business slowing to a crawl – companies may be looking for relief from recurring costs, especially in the area of mobile devices and IT communications that support endless conference calls and streaming services.
While these lifelines may keep business moving forward, many companies are finding that it comes at a steep price. The increase in network traffic and total internet usage is stark. As governments initially began to enforce lockdowns and many Americans "sheltered in place," there was plenty of coverage about a significant increase in mobile usage. AT&T's CEO indicated in March that their mobile volumes were up 40% and Wi-Fi calling volumes were up 100%. Business apps also boosted user sessions by 105% in quarter one from a year prior, and gaming app usage saw a 132% surge in the last week of March as lockdowns were put into effect throughout the country, according to Adjust data published in Mobile Marketer.
No Reason To Pause Digital Transformation Projects
For the past several years, "digital transformation" has been a ubiquitous, and perhaps overused, buzzword — but something all your customers should be aspiring to. However, when the economy slows and companies come under pressure to cut costs amid thinning margins, it's time to show prospects that you are thinking of their needs, not yours. You can do that by leading with cost efficiency and offering them instant relief from the financial pressures of a revenue-constrained economy.
I'm not talking strictly about giving customers discounts on services, but helping them identify ways they can streamline, save and continue to digitally transform their business. For example, when more than 1,500 of a luxury brand retailer's stores closed due to Covid-19, we were able to provide it with a win-win solution: Rather than shutting off many of the wireless and wireline services we provide to this retailer, we suggested that we work with select locations to provide call forwarding. Because these locations were not in use, we also temporarily downgraded their bandwidth to help them save money. Putting the client first during hard times is paying off: This retailer is now looking to us to upgrade hundreds of their locations with 5G.
A business development strategy that combines these elements increases your chances of success in this environment. Here are actions you can take immediately to move beyond simple "transactional" relationships with your clients and into more of a "trusted advisor" role where you will both benefit:
Help clients prioritize their projects. As difficult as it may seem, this may not be the time to reduce spending on IT communications. However, it may be the time to shift priorities. I'm constantly asked how I can help clients with business resiliency, agility and cost optimization. One common example that I encounter every day is in the area of corporate-issued mobile phones. Because Covid-19 is forcing many of us to work remotely, I advise clients to consider leasing mobile devices rather than buying them. This allows them to maintain business continuity and potentially reduce their expenses through a lease option. You likely have products or solutions that will help keep your client's business running seamlessly and that you can advise on.
Assess digital transformation projects. For some organizations, digital transformation projects may seem like a "nice to have," and they may consider hitting pause on transformation projects. However, there's probably no better way to future-proof your business than by keeping these projects moving forward, even if it means shifting which projects take priority. A recent article in McKinsey perhaps sums it up best: "The Covid-19 crisis is likely to significantly accelerate the shift to digital and fundamentally shake up the business landscape." The takeaway: those companies that move early and decisively in a crisis may do best.
Finally, if you're not connecting with your clients in a meaningful way, here are a few simple ways you can change that:
Stay connected digitally. I've seen a lot of studies over the last few years that stress the value of face-to-face meetings for businesses. One study discussed in the Harvard Business Review (paywall) claims that a face-to-face request to complete a survey is 34 times more successful than an emailed request. While few would argue with the benefits of meeting a new client in this way, it may be a long time before a client is interested in meeting in person. At my company, we've significantly increased the number of virtual events we're participating in and have been using this platform to provide training and educate our clients. It not only allows us to make sure our clients are getting what they need from our solutions with the increase in videoconferencing, but it also allows us to see our clients and maintain those relationships.
Share digital content. Your organization is likely sitting on a treasure trove of content that provides helpful information about your services. While we have a newsletter that we send out on a monthly basis to a large client base, we've shifted our content to address pain points our clients are facing since the beginning of the pandemic. That includes tips for working seamlessly from home and helping them reduce costs on their IT communications. What valuable content are you keeping from your customers that they could benefit from now?
Improve social media engagement. Our senior team has made a concerted effort to increase engagement on their personal LinkedIn pages. This effort is partly about brand-building and partly about sharing helpful information. Consider how your team can regularly post content on social media platforms such as LinkedIn and Twitter to promote the value of your company.
By adjusting how you are communicating with your clients now to become a trusted advisor, offer helpful information and guide them through this extraordinary time, you can not only help your clients "weather the storm," but can also help them come out stronger when our economy returns to normal.
---
This article was originally featured in Forbes.