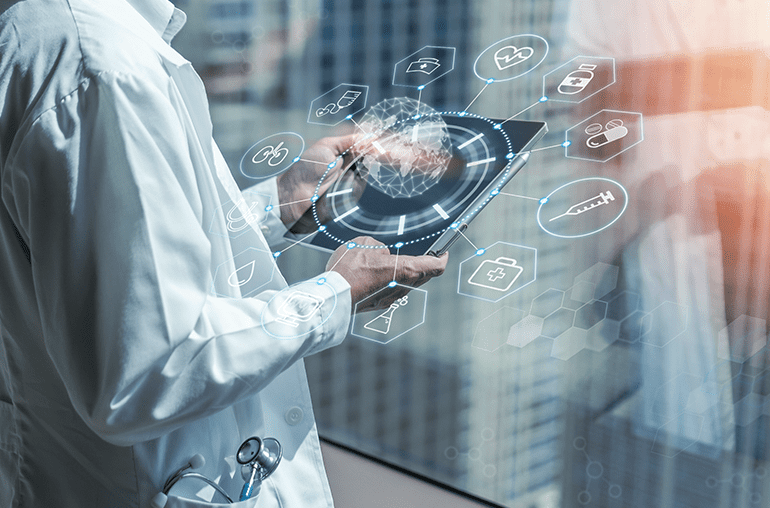 The many benefits of IoT in healthcare extend to patients, practitioners, healthcare enterprises, and affiliate industry components like cybersecurity companies and insurance underwriters. But what do these IoT telehealth solutions look like in the real world? Let's look at some of the ways IoT in healthcare is transforming the telehealth landscape.
1. Remote Patient Monitoring
The ability to collect real-time patient data outside traditional clinical settings via devices like wearables, sensors, and home monitoring systems is, simply put, a game-changer. IoT devices allow physicians and other healthcare professionals (HCPs) to track multiple factors in real-time, including:
Vital signs
Activity levels
Medication adherence
With this information on hand, it's easier to promote overall health with preventative care, detect early warning signs of underlying problems before symptoms become apparent, and intervene promptly to treat patients before conditions become more severe.
2. Remote Senior Care
The US has nearly 56 million adults aged 65 and older, accounting for 16.8% of the total population. The older we get, the more routine health checks we require, as we're more likely to develop age-related issues like hearing loss and vision deficits in addition to other illnesses and ailments. Remote monitoring is particularly helpful in supporting less mobile members of our senior population. IoT integration promotes independence and enhances safety while providing peace of mind for patients, healthcare providers, and families alike.
3. Emergency Alerts
Through connected IoT devices and sensors, patients can instantly alert healthcare providers or EMS in the case of a medical emergency. For example, a wearable device with heart rate detection, blood sugar or oxygen levels can auto alert both the patient and provider to take timely action. This real-time communication can significantly reduce emergency response times, potentially saving lives and minimizing the severity of ongoing health complications.
4. Medication Adherence
The widespread adoption of IoT in the medical field has dramatically improved medication adherence through smart management systems. Connected pillboxes and medication dispensers can be programmed to remind patients to take their medications at the right time and at the correct dosage. These devices can also track medication usage, alerting patients and/or caregivers when doses are missed or mismanaged.
5. Support for Doctors
Connected telehealth medical devices, such as digital stethoscopes, otoscopes, and high-resolution cameras, enable physicians to remotely examine patients with the same level of accuracy as in-person consultations. These devices transmit real-time audio, visual, or diagnostic data, allowing doctors to make informed decisions and provide accurate diagnoses. In addition, IoT-enabled telehealth platforms facilitate secure communication, collaboration, and information sharing among healthcare professionals, enhancing interdisciplinary care and facilitating additional consultations and second opinions.
6. Streamlined Home Healthcare
Intelligent scheduling systems that keep patients, caregivers, and healthcare providers connected via one streamlined system make it faster and easier to service patients in their own homes by:
Automating routine tasks like scheduling appointments
Coordinating medication refills
Increasing the efficiency of home visits by optimizing routes to reduce travel time and maximize patient time
Enhancing communication for more efficient and personalized home healthcare
7. Enhanced Chronic Disease Management
Patients with chronic conditions like diabetes or hypertension can use IoT-connected devices to manage their condition by tracking vital signs, blood glucose levels, and medication adherence. When transmitted to healthcare providers, this data can be used to monitor each patient's health status continuously and adjust treatment plans as necessary. The overall result is a reduction in frequent hospital visits, improvements to long-term health prognosis, and a higher number of positive outcomes.
8. Improved Data Encryption & Security
IoT in healthcare projects and telehealth programs are designed to ensure 100% secure data transmission. Robust encryption protocols are employed to protect sensitive health information that is transmitted between devices and systems. So, unlike paper copies, electronic IoT telehealth records are safeguarded from unauthorized access because only authorized individuals can decrypt, view and interact with the data, ensuring HIPAA compliance. For example, MetTel's network security services feature next-generation firewalls and DDoS protection to protect all devices and prevent cyberattacks.
9. Transparent Insurance Underwriting
Due to the enhanced authenticity of IoT-driven data, telehealth technology can be leveraged to improve transparency between insurers and consumers. For example, IoT device data can be used by insurance companies to:
More easily detect fraudulent claims
Effortlessly corroborate valid claims
Bolster risk assessment and pricing processes to ensure accurate, personalized underwriting
10. Continued Scientific Advancement
The broad-scale use of IoT technology in telehealth encourages creativity and pushes the boundaries of what is possible, leading to continuous scientific advancement. For example, gadgets and sensors like hearables, wearables, and ingestible devices provide opportunities for experimenting with novel technologies, algorithms, and interventions. Empowering researchers to prototype and develop new healthcare solutions accelerates the innovation cycle, leading directly to the deployment of new healthcare devices, applications, and services.
It's time to connect smarter. MetTel is a leading global communications solutions provider for businesses and government agencies. By converging all communications over one proprietary network, MetTel enables the easy deployment and management of technology-driven IT services for healthcare.
At MetTel, we understand that when using IoT in healthcare—particularly in the telecare sector—devices must remain connected at all times. That's why we developed our IoT Single SIM, so your devices will never go offline. The MetTel Single SIM roams intelligently to find the strongest mobile signal in any location. With over 650+ carriers and roaming agreements in more than 165 countries, our multi-network global solution virtually eliminates any possible points of failure. It's like having multiple SIM contracts to cover a variety of regions, but only having to pay for one!
With award-winning innovations and customer care, you can trust the MetTel team to completely manage, maintain and secure your communications needs through our portfolio of patient and customer-centric solutions. Designed to boost enterprise productivity, reduce costs, and simplify operations, our powerful cloud-based software platform enables HCPs to work smarter, not harder, in their mission to provide superior patient care and drive more positive outcomes.